In the ever-evolving world of digital marketing, understanding how to maximize your online visibility through Search Engine Optimization (SEO) is fundamental. A key component of an efficient SEO strategy lies in the effective use and understanding of internal linking. As an integral part of SEO, internal linking not only aids in site navigation but also enhances the overall user experience and indexing of your website by search engines. This comprehension of the role and benefits of internal linking in SEO provides a powerful tool in the arsenal of any website owner or developer seeking to improve their online presence.
Understanding SEO and Internal Linking
SEO: The Backbone of Digital Content
Search Engine Optimization (SEO) is the strategic process of optimizing web content to increase its visibility for relevant searches. The better the visibility of your webpages in search results, the more likely you will garner attention and attract potential and existing clients to your business. SEO is underpinned by multiple elements including keywords, content quality, site speed, mobile-friendliness, and internal linking.
Internal Linking: An Integral Part of SEO
Internal linking is the process of linking one page of your website to another page on your website. This is a simple yet powerful tool in SEO that allows site owners to direct traffic to other relevant pages while keeping visitors engaged in your website ecosystem. When effectively utilized, internal linking can significantly improve the user experience, thereby augmenting the overall site performance and SEO ranking.
The Role and Importance of Internal Linking in on-Page SEO
Internal linking plays a crucial role in on-page SEO, an optimization that focuses on all measures taken within the website to enhance its position in the search rankings.
Facilitates Site Navigation: Internal links guide visitors from one page to another on your website, providing a simple and intuitive way for users to navigate through your website. This enhances user experience, holding visitors longer on your site and reducing the bounce rate.
Distributes Page Authority: Each webpage on your site gains authority through external links and shares that authority with other pages via internal links. This distributes "link juice" or "page authority" among various pages, potentially helping lesser-known pages gain visibility on search engines.
Enhances Page Visibility: If a page doesn't have any internal links pointing to it, search engines may struggle to find it, reducing its likelihood of appearing in search results. Internal links ensure that all pages are discoverable, especially those deep within your site's structure.
Helps in Website Indexing: Search engines like Google use bots to crawl websites. They start with a few pages, follow the links on the pages and then index the linked pages, and so on. Having a good internal linking strategy can help hasten this process and improve your site's visibility.
Best Practices for Internal Linking
Use Descriptive Anchor Text: Anchor text is the clickable text of a link. Use clear, descriptive, and concise text that informs users and search engines about the linked page.
Link Deep: Avoid linking only to your homepage or about us page. Instead, link deeper into your website to service pages, blog posts, or product pages that may not naturally attract external links.
Use Follow Links: Google suggests using follow links more often as they allow link juice to flow through. Use "nofollow" links sparingly in cases such as sponsored or paid content.
Make it Natural: Links should fit naturally into the content. Forcing links where they don't belong may frustrate users and lead to penalties from search engines.
Keep an Eye on Broken Links: Ensuring all your internal links work correctly is a basic, yet essential part of a successful internal linking strategy. Broken links offer poor user experience and impact your site's ranking negatively.
Boosting your website's visibility, improving SEO performance, and enhancing user experience are all tangible benefits you can enjoy through a strategic approach towards internal linking. By adhering to best practice guidelines, these interconnected digital pathways can steer you towards significant growth.
How Internal Linking Works in SEO
Demystifying Internal Linking in SEO
Internal linking forms the backbone of on-page SEO, where we carefully craft links that guide visitors to other pages on the same website. Such links serve as navigational aids for search engines in deciphering a website's content structure and theme. In essence, a well-structured internal linking strategy can weave a tight-knit web of interrelated content on your website.
How Search Engines Use Links to Rank Content
Search engines use multiple factors to determine how a page should rank on search engine result pages (SERPs), and internal links play a crucial role in this process. They use links as a way to find new webpages and to determine the importance of a page relative to other pages.
When a search engine crawls a website, it follows the internal links on each page. This helps the search engine understand the architecture of the site and index the linked pages. The more internal links a page has, the easier it is for search engines to find and index that page.
Furthermore, search engines consider the anchor text used in internal links to understand the context and relevance of the linked page. Consistent and accurate anchor texts can boost the relevancy and ranking of the pages they link to.
Enhancing Site Visibility and Indexing through Effective Internal Linking
Diligently implemented internal linking strategies can substantially enhance the visibility and indexing of your web pages. This approach intensifies the probability of your content being located by both search engines and users, leading to overall site performance enhancement.
The cornerstone of a successful internal linking strategy is the creation of abundant high-quality content. An increased content volume translates to more opportunities for internal linking. For the internal links to make sense and provide value, the linked web pages must bear relevance to each other.
Connecting your fresh content to older but pertinent pages assists search engines in understanding and indexing the new content more quickly. Likewise, this strategy provides visibility to your prior content and evenly distributes your website's link equity.
In addition to that, directing internal links from your high-performing pages to relevant lower-performing ones circulates page authority and potentially uplifts the latter's performance. However, it's of paramount importance that these pages hold value and relevance to ensure a positive user experience.
Beyond SEO enhancement, internal linking also amplifies the user experience by presenting supplementary information and navigational aids. This strategy augments the likelihood of visitors prolonging their stay and interacting with your content more significantly.
In conclusion, a proficiently employed internal linking strategy can strengthen your on-page SEO, increase your website's user-friendliness, and heighten the visibility and indexing of your web pages.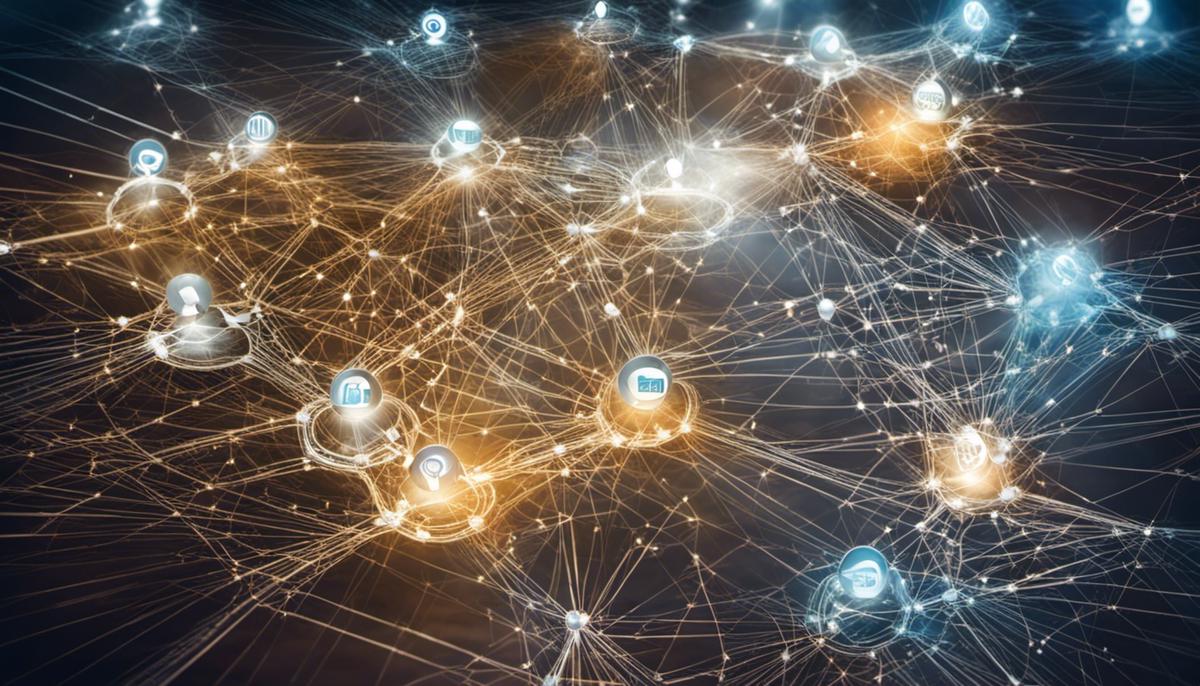 Practical Techniques in Effective Internal Linking
Decoding the Impact of Internal Linking in the Domain of On-Page SEO
Internal linking holds a pivotal position in on-page SEO, significantly aiding in enhancing website navigation, outlining the website's structure and hierarchy, and distributing page authority throughout the site. These intrinsic links interconnect the website pages and direct both search engine crawlers and users towards relevant and interconnected content. This mechanism is indispensable for elevating the website's visibility and authority in search engines such as Google or Bing.
Practical Techniques for Effective Internal Linking
There are several practical techniques to employ when developing an effective internal linking strategy. One common practice is to include links in your website's main navigation menu – these are often seen as the most important links on your site. You can also incorporate links into your website's content. Doing so not only provides value to readers but also allows search engines to understand the relationship between different pages.
Another effective technique is to use breadcrumbs. These are secondary navigation schemes that reveal the user's location on your website. Breadcrumbs are useful for large websites with multiple levels of content hierarchy, as they help users navigate your site and give search engines an idea of your site's structure.
Moreover, footer links can be used as an additional navigation point, allowing users and search engines to find pages that might not be included in the main navigation menu.
Identifying Opportunities for Internal Links
One key element in an effective internal linking strategy is the identification of linking opportunities. These opportunities can typically be found by reviewing your website's content and understanding the topics and keywords that are closely related.
For instance, if you have numerous blog posts about SEO techniques, it might be a good idea to link these posts together. This enriches the user's experience by allowing them to navigate between related topics, and it also highlights for search engines the connections between your content. Tools such as Google Analytics can provide insights into which pages are performing well, and where there might be opportunities to link related content for better engagement and optimization.
Best Practices for Anchor Text Usage
When it comes to internal linking, it's important to remember the significance of anchor text. Anchor text is the clickable text in a hyperlink that leads to another page on your website. For maximum effectiveness, the anchor text should reflect the linked page's topic or keyword focus.
You should avoid using vague phrases like "click here" as anchor text. Instead, use meaningful descriptions that tell users and search engines what they will find when they follow the link. However, it's crucial to avoid overly repetitious use of the exact match keywords as it could be viewed as manipulative and potentially harmful to your website's SEO.
The crux of effective internal linking is finding balance.
A well-executed internal linking strategy involves a careful analysis of linking opportunities and the judicious use of anchor text. These elements need to be integrated naturally into the content, ensuring both a positive user experience and favorable search engine recognition.
Benefits and Drawbacks of Internal Linking
Unpacking the Advantages of Internal Linking in On-Page SEO
The importance of internal linking as part of on-page SEO cannot be overstated. Foremost, it aids in making your website easier to navigate. By strategically placing internal links, you're essentially guiding users and search engines along a well-defined path, similar to a roadmap. This ultimately enhances the user experience as they can easily locate relevant content, leading to lower bounce rates and extended site visits.
Furthermore, proficient internal linking practices come with the added benefit of distributing link equity, often referred to as 'link juice', throughout your site. When one of your web pages gathers backlinks from different sites, it earns link equity. Distributing this equity by linking internally to other pages within your site can help improve these pages' positions in search engine rankings.
The tactical use of internal links can go a long way in structuring your website hierarchy and naturally channeling the authority of top-ranking pages to others. By doing so, you are aiding search engines in understanding your website's structural relationships, which gives relevance and significance to your content while enhancing your SEO performance.
Finally, internal links simplify the process of web crawling and indexing for search engine bots. So, by implementing a proficient internal linking strategy, you're making site traversal easy and ensuring all your pages get indexed correctly – a key aspect for ensuring overall visibility in search engine results pages (SERPs).
Understanding the Pros and Cons of Internal Linking
Internal linking plays a pivotal role in optimizing on-page SEO, but it's crucial to be conscious of potential drawbacks. A common misstep is 'Link Stuffing', where numerous internal links are unnecessarily infused, often leading to repetitive anchor text. This practice not only disrupts the user experience but can also cause search engines to flag your content as spam, which may lead to penalties detrimental to your SEO.
Another possible mishap is the creation of 'Orphan Pages', a term used for webpages without any incoming links from other pages on your website. These pages do not fit into the navigational structure of your site, making them challenging to discover for both users and search engines. Orphan pages hinder the effective distribution of link equity, impair user experience, and complicate the crawling and indexing process for search engines.
Deep linking, though useful in certain scenarios, can cause navigational confusion if overused, and may dilute the link equity of top-level pages. No-follow links used for internal linking also do not contribute to SEO, as they don't pass on any link equity.
A well-practiced internal linking strategy accounts for these potential pitfalls, and leverages the utility of internal links to improve site navigation, enhance user experience, and elevate SEO performance. This makes internal linking a critical factor for any webmaster or SEO professional aiming to optimize on-page SEO.
Real world Examples of Successful Internal Linking Strategies
Internal Linking: Learning from Amazon's Success
Amazon, one of the globe's biggest e-commerce and SEO triumphs, brilliantly utilizes internal linking. Their clever tactics keep customers effortlessly navigating their site, providing valuable insights for organizations aiming to emulate their prosperity.
Amazon's internal linking is a fine study for any SEO professional. Each product page is prolific with links leading to various sections like "Customers who bought this also bought…", "Frequently bought together", and similar categories. This strategy encourages the user to explore more products, extending their stay on the site.
Amazon's well-thought-out internal linking strategy not only increases their average order value but also refines the user experience by showcasing relevant products. Thus, it plays a key role in boosting the overall SEO of their site.
Netflix: Keeping Users Hooked with Internal Linking
Another real-world example of an organization that has successfully implemented an internal linking strategy is Netflix. The entertainment platform uses internal links to direct its users to other relevant movies or TV series. This strategy keeps users on the site for a longer period and enhances user engagement.
Netflix uses sophisticated algorithms to serve "Because you watched…" or "More Like This" recommendations, facilitating more internal links and promoting longer user sessions. This not only keeps users on the site but increases their potential engagement with Netflix's content.
Wikipedia: Proving the Power of Internal Linking
Perhaps one of the best examples of successful internal linking strategies would be Wikipedia. Known as the encyclopedia of the internet, Wikipedia has become a go-to source for lookup because of its efficient internal linking strategy.
Wikipedia ensures that each of its articles is extensively linked to other related articles. This strategic internal linking allows users to delve deeper into a subject easily, improving the amount of time visitors spend on the site.
For SEO, this strategy works wonders, as time spent on a page is a key signal to search engines that the information is valuable. As a result of its extensive internal linking, Wikipedia consistently ranks high on Google's search result pages.
Zappos: Mastering User Navigation Through Internal Linking
Zappos, an online shoe and clothing retailer, leverages internal linking strategies to enhance website navigation. Their strategy is seen in the use of breadcrumbs, which are links that allow users to track their path from the homepage to the page they are currently viewing.
Implementing breadcrumbs is useful for SEO because it makes the site more user-friendly, increases the average time a user spends on the site, and helps search engines understand the website structure. As a result, Zappos has an effective site architecture, and it often ranks well in search engine results.
Conclusion
While each business has its unique SEO challenges and opportunities, these examples prove that a well-planned and executed internal linking strategy can significantly improve a website's user experience and search engine ranking. Businesses aiming to replicate this success should take cues from these successful strategies, adapt and integrate them as part of their overall SEO plan.
The power of internal linking, when done effectively, is substantial within an SEO strategy. It is an aspect that carries immense potential for growth in website visibility, user engagement, and navigability. However, to harness its full capacity, one must not overlook the potential challenges that come with incorrect implementation, such as 'Link Stuffing' or creating 'Orphan Pages'. Nevertheless, by studying successful real-world examples and incorporating practical techniques, understanding, and mitigating these risks, one can use internal linking to its full advantage, thereby enhancing the overall SEO performance and success for their website.