In the ever-evolving digital landscape, the methodology employed in organizing your website's content can be the determining factor in your website's visibility on the internet. Most new-age entrepreneurs and business owners understand the importance of Search Engine Optimization (SEO) in driving high-quality traffic and promoting visibility of their site. However, two especially vital elements often overlooked are siloing and internal linking. This article provides a clear understanding of these two terms, the intricate link between them, and how they strengthen the fundamental structure of your SEO efforts.
Understanding SEO, Siloing and Internal Linking
Understanding SEO, Siloing and Internal Linking
Search Engine Optimization (SEO) refers to the practice of optimizing a website to increase its visibility for relevant searches. The better visibility a website has in search results, the more likely it is to garner attention and attract prospective and existing customers to its business. SEO involves making specific changes to a website, making it more attractive to a search engine. The search engines rank sites based on perceived utility to users.
Siloing is an SEO technique that organizes a website's content into distinct categories or 'silos', improving the site's readability and navigability for both users and search engines. This process can be applied to the website's URL structure, the site's content and its internal linking structure.
Internal linking refers to the practice of linking to other pages within your website. This includes main navigation links, footer links, content links, and breadcrumb links. It aids in website navigation, defines the structure and hierarchy of a site, and distributes page authority and ranking power throughout the site.
The Purpose and Benefits of Siloing
The primary purpose of siloing is to provide clear, organized content for both website visitors and search engines. Organizing the site's content into distinct silos or categories allows search engines to understand the relationship and grouping of the content within the different sections. This, in turn, can improve a website's ranking in search engine results which increases visibility, organic traffic, and potential conversions.
Creating silos of related content also benefits users as it improves the website's navigability, allows users to find the information they need more easily and makes the user experience more engaging and beneficial.
How Siloing Affects SEO
Siloing effectively structures a website, enhancing its relevance to search queries. When a website's content is well structured and connected, search engines can better understand what the site is about, boosting its relevancy to the keywords it targets. This can positively affect the site's SEO performance and elevate its SERP rankings. By enhancing user experience and making a website more navigable, siloing also reduces bounce rates and increases the time visitors spend on a site, which positively impacts SEO.
Internal Linking and SEO
The use of internal links is a key aspect of siloing. Internal links allow search engines to index all the pages on your site. They guide the search engine to crawl from one page to another, ensuring all pages get indexed. Also, a reliable internal linking strategy helps spread 'link juice' or 'ranking power' across pages, leading to higher rankings in search results.
A well-structured internal linking strategy additionally promotes user experience. Links provide clear paths for navigation around your site, steering visitors to related content or information they may find interesting. By making it easy for users to navigate a site's pages and discover more content, internal links can also increase the time a visitor spends on your site, a factor that can indirectly boost SEO.
To wrap things up, it's crucial to acknowledge the importance of both siloing and internal linking when it comes to building a highly structured and carefully organized website catered to both users and search engine algorithms. By logically grouping and breaking down your web content into distinct silos supported by strategic internal linking, you can drastically enhance your site's SEO performance and usability.
The Relationship between Siloing, Internal Linking and SEO
Explore the Benefits of Siloing for SEO
Siloing at its core is a method for systematically arranging your website into separate yet interconnected categories or subcategories. The adept application of website siloing can have a markedly positive impact on your search engine optimization (SEO) ratings. This is largely due to siloing's ability to foster a more navigable and intuitive user experience. This, in turn, can lead to users spending more time exploring your site and less time bouncing off pages. A lower bounce rate and increased site engagement are indicators that search engines pay attention to as they evaluate a website's SEO performance.
Additionally, siloing gives search engines a clear roadmap of the context and relevance of your website's content. Every silo or category is centered around an individual topic or a cluster of associated topics. The content within these silos reaffirms their connectedness, indicating to search engines how each piece of content ties together within its respective theme. Search engines are predisposed towards sites with a clearly defined structure and thematic consistency. Therefore, a well-organized, properly-siloed site can earn a high relevancy score, providing a substantial SEO advantage.
Internal Linking and SEO Enhancement
Internal linking is another vital aspect of SEO. It involves creating links between different pages on the same website. The strategic use of internal linking can effectively distribute page authority throughout the site, potentially improving the site's visibility on search engine result pages (SERPs). Furthermore, like siloing, internal linking also improves website navigability and enhances user experience, resulting in improved user engagement metrics.
Interplay Between Siloing and Internal Linking for SEO
The combination of siloing and internal linking can be particularly beneficial for SEO. You can use internal linking within silos to reinforce the relevancy of the content, making it easier for search engines to identify and index the website's key topics and themes. This means that the more relevant and thematically organized your content is, the better your chances of ranking on SERPs.
Integrating siloing and internal linking can also help enhance the authority of your website. By linking pages within a silo, you can distribute the 'link juice', or the power that a backlink passes to a website, effectively throughout your site. This helps to improve the page authority of individual pages, making them more likely to rank higher on SERPs.
Over time, a well-siloed and internally linked website can also foster improved user loyalty and engagement, as visitors can quickly find the information they need and navigate between related topics. These user behavior signals can contribute significantly to the website's SEO performance, as search engines often factor in user engagement when determining rankings.
Grasping the conjunction of siloing, internal linking, and SEO strategies allows you to effectively utilize these techniques to augment the visibility, relevancy, and authority of your website, consequently improving the overall user experience.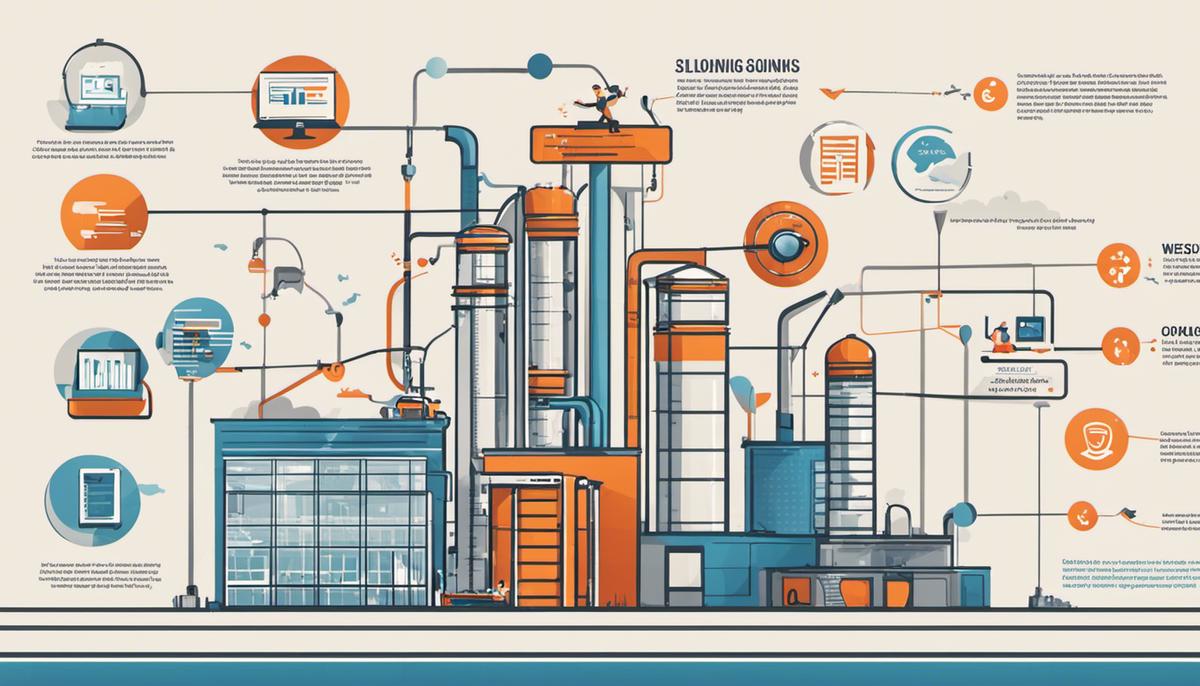 Practical Steps to Implement Siloing and Internal Linking
The Positive Impact of Siloing on SEO
The process of siloing implicates dividing your website's content into clear, separate categories or "silos", which reflect their respective themes. This approach not only helps users navigate your site with ease, but it also aids search engines in comprehending your content. By grouping related information, siloing increases the topical relevance of each category, thereby enhancing your website's SEO performance.
Planning Content in Silos
The initial phase in the implementation of siloing involves comprehensive planning. This process includes identifying various themes or topics that your website content covers and categorizing them in distinct silos. The planning phase also involves analyzing keyword data to align it with relevant topics. This segregation helps search engines clearly understand what each section of your website addresses, boosting its SEO rankings.
Creating and Organizing Content
Once a robust plan is in place, you move on to creating content that falls under each silo's theme. Each piece of content within a silo must be related to the main theme. This aids search engines in identifying and understanding the relevance of your content. Furthermore, logically organizing such relevant content under a common roof improves user experience, which indirectly boosts SEO.
Balancing User and Search Engine Needs
Satisfying user needs is equally critical in driving your website's SEO rankings. Creating content that is engaging, informative, and resonates with your users is crucial. Simultaneously, the content must also be optimized for search engines. This balance can be struck by using relevant keywords in your content organically and ensuring it is linked internally coherently within the silo structure.
Building Internal Linking Structures
To boost your website's SEO, a firm internal linking structure is vital. Internal links are hyperlinks pointing to different pages on your website. With a siloed architecture, internal links mainly connect pages within the same silo, strengthening the overall theme of the silo. This robust internal linking strategy enables search engines to crawl your website more effectively, improving its visibility and SEO rankings.
Best Practices and Common Mistakes in Implementing Siloing
While implementing siloing, it is essential to outline clear boundaries for each silo. Overlapping or non-distinct silos may confuse search engines, negatively impacting your SEO. Additionally, content within each silo should be thematically linked, resonating with the main theme. Excessive internal linking across different silos should be avoided to maintain the distinctness of each silo.
Effective siloing can help elevate your website's SEO rankings by improving its clarity for both users and search engines. Following these practical steps can help you effectively implement siloing and internal linking, boosting your internet visibility.
Understanding and implementing the concepts of siloing and internal linking are indispensable for ensuring the online success of your website. A siloed structure aids in better organizing your site's content, increases its perceived authority and relevance, thereby leading to improved SEO rankings. Coupled with a robust internal linking strategy, it not only helps in website navigation but also enhances indexing capabilities. Their successful implementation can significantly improve user experience and give your site a legitimate boost against its competitors. So, invest some time in enriching your site with a smart internal linking structure and well-organized silos – it is an effort that will indeed pay off in the long run.