With the inevitably increasing importance of digital presence, mastering all facets of Search Engine Optimization (SEO) has become more critical than ever. A significant component of this is the art and science of Internal Linking, an often overlooked yet powerful tool for enhancing website visibility. In this in-depth scrutiny, we start from the basics, elucidating what internal linking truly means and its synergy with SEO. Key to the SEO-friendly internal linking is the identification and employment of the right keywords. Hence, we will guide you on proven strategies in keyword research, selection, and placement. Building on this foundation, we advance to the centerpiece of this guide: implementing effective internal linking strategies. With a deep dive into best practices and potential pitfalls, we aim to leave you with the knowledge and competence to build an unbeatable internal linking structure.
Understanding Internal Linking
Powering up Your SEO: The Influence of Internal Linking
Innovative entrepreneurship is not exclusive to the world of physical products—it extends to the realm of digital business strategies as well. Leveraging the power of internal linking is one such savvy venture. This finely tuned strategy, if applied correctly, can significantly elevate your Search Engine Optimization (SEO) potential.
To unravel the concept of internal linking, one must understand it as a process that binds your individual web pages together, creating an interconnected web of information. It is akin to a cleverly designed subway system—each station, or in this case, each webpage, effortlessly linked with one another, ensuring a smooth journey for your users.
Implementing internal linking enhances the user experience, a vital aspect in today's business landscape. Effective internal links guide users through related content, help them navigate your site more effectively, and maintain their engagement. A happy user is likely to spend more time on your website, reduce bounce rate, and, hopefully, convert into a customer.
Now, let's navigate to the other side of the spectrum—your SEO performance. Robust internal linking renders sites not just user-friendly, but also spider-friendly. Here, 'spiders' refer to Google's web crawlers that investigate and index your web pages. Seamless internal linking aids these crawlers in identifying, understanding, and connecting your content.
A well-linked webpage environment allows these 'spiders' to discover new content with ease, and comprehend the architecture and hierarchy of your website. The more accessible the content, the higher the chances of a page being indexed and ranked by Google. Fascinatingly, all of this ostensibly minor linking can lead to significant boosts in your search engine rankings.
The benefits do not stop here. Strategic internal linking can garner a potent tool in your SEO armory – link juice. In the SEO realm, 'link juice' refers to the value, or equity, passed from one page or site to another through links. A well-linked site can efficiently distribute this link juice to lower-level pages, improving their rank and visibility in search results.
No matter what industry you're in, mastering the art of internal linking is a necessity. Whether you're selling products, services, or ideas, the quest for enhanced visibility and higher search rankings remains universal.
The challenge of establishing an efficient internal linking strategy can seem daunting at first glance. However, remember that every entrepreneurial journey starts with a single step. Start now by auditing your current linking structure, identifying gaps, and weaving thoughtful links throughout your site to usher your users – and Google's webcrawler spiders – on a seamless tour of your digital empire. Embrace the power of internal linking and unlock the untapped potential of your SEO strategy.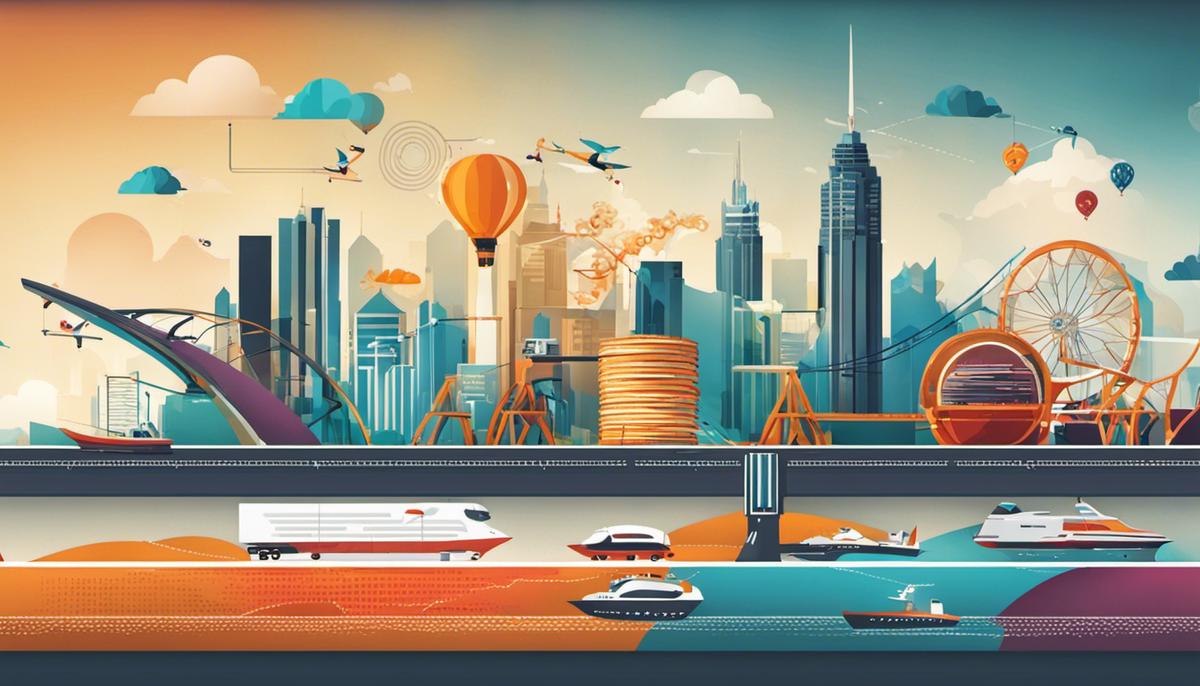 Identifying the Right Keywords for Internal Linking
Discovering and implementing ideal keywords for internal linking is a skill that has the potential to revolutionize any online business strategy. But the journey begins with understanding the essence of these particular keywords.
Keywords hold the responsibility of straightforwardly communicating with search engines about your content. In essence, they're the core of any SEO strategy. For internal linking, they act as a spotlight, underlining the importance of the mentioned page and aiding search robots in comprehending the page's focal point.
The question that arises starkly is, "How can one identify the right keywords?"
Keyword research is the definitive answer. Tools like Google Keyword Planner, SEM rush, or Ahrefs offer in-depth insight into popular keywords, search volume, and ranking difficulty. Utilizing these will provide you with an array of potentially powerful keywords.
Once you acquire the optimal keywords, the next step is to ensure these words are relevant to your content. Irrelevant keyword stuffing will cost you your credibility, and may potentially lead search engines to flag your content as irrelevant or, worse, spam. Remember that your objective is to enhance user experience, which in turn increases your credibility with search engines.
After determining relevant keywords, implement them in context with your content. Connecting your articles, blogs, or web pages with these keywords creates internal links. This leads visitors available on one page of your content seamlessly into another relevant page – effectively keeping them engrossed in your domain.
While creating these internal links, remember to be natural. Links should be logically placed, and the anchor text should not feel forced. Entrepreneurs aiming for the highest peaks in their respective industries know the value of a single, strategically placed internal link against the detrimental nature of several haphazard ones.
Another aspect to consider is the use of strong call-to-action language. As an enterprising entrepreneur, you can influence user actions subtly through powerful command words, thus effectively improving click-through rates.
Keeping track of the links and their performance is also crucial. Regular audits using Google Analytics or similar tools will provide crucial insights into your internal linking strategy.
Identifying and utilizing the right keywords, then, is not only about improving SEO. It is about enhancing user experience, encouraging credibility, and pushing your website to its fullest potential. Remember, in the marketing landscape, the key to great heights is always through innovation, strategy, and elegance. Experience the transformative power of well-placed internal links, and watch your business thrive.
Photo by nisoncoprseo on Unsplash
Implementing Effective Internal Linking Strategies
To drive peak success in your business, it's crucial to understand the art and science of cultivating an effective internal linking strategy. Once you've delved into the fundamental concepts – the definition of internal linking, its multifaceted benefits, the critical role it plays in SEO strategy, and the impact it can have on your search rankings – it's time to explore the nuts and bolts of execution.
Just embarking upon your internal linking journey? Fear not; explore the following guidelines to craft a strategy that delivers business results beyond your wildest dreams.
Integrate Contextual Linking: Contextual links within your content can boost user experience and Google's understanding of your webpage's context. Use these links to point users and Google's crawlers towards high-quality, relevant content within your site. This strategy not only enhances user satisfaction but also aids in projecting a sound website structure to web crawlers.
Enhance User Engagement with Anchor Text: Go beyond the conventional 'click here' or 'read more'. Select anchor texts that are precise and descriptive about what your linked page offers. A strategic approach to anchor text will inspire user engagement while improving your content's visibility to search engines.
Harness the Power of Deep Linking: Deep linking refers to linking to pages deeper into your website hierarchy as opposed to just the home page or main category pages. It not only improves your website's navigation but also spreads the link juice more evenly across your site, enhancing the visibility of buried pages.
Adopt a Balanced Approach: Aim for a balanced linking structure, ensuring that no single page disproportionately receives the bulk of internal links. This strategic approach can spread SEO strength throughout your website, enhancing your site's overall visibility and ranking potential.
Embrace the Hub-And-Spoke Content Strategy: This involves creating a comprehensive 'hub' page on a specific topic and then linking it to subset 'spoke' pages. This approach not only aids user navigation but also sends a strong signal to search engines about the breadth and depth of your content.
Invest in An SEO Audit: Your internal linking strategy should be as dynamic as the search landscape itself. Regular SEO audits can reveal opportunities for improvement and identify issues that might obstruct site crawlers or hamper your website's navigability.
The bottom line? It's not a sprint, but a marathon. An effective internal linking strategy works to boost user engagement, offers a structured path to web crawlers, and configures the overall fabric of your website. Now you're ready to carve out your journey in implementing the best practices for internal linking, transforming not only the SEO strategy but also achieving new heights in business success. Remember, the right strategy fuels growth – and growth is the entrepreneurial endgame.
Internal linking, when done right, can significantly increase a website's visibility and enhance user experience, so it's well worth taking the time to learn and implement best practices in this area. This guide provides you with the fundamentals, from understanding what internal linking is to identifying the correct keywords for your internal links. More importantly, we've equipped you with the know-how of creating effective internal linking strategies for SEO, and avoiding common mistakes. With this information, you can confidently maneuver through the world of SEO and improve your website's reach, bolstering its standing in search engine rankings. Remember, in the vast ocean of web content, it's the details that often set the successful ones apart. It starts with mastering the basics, and gets better and better as you apply the strategies laid out in this guide.