As the digital landscape continues to evolve, effective on-page Search Engine Optimization (SEO) remains a vital component in establishing a strong online presence. As we gear up for 2023, it's evident that certain features, such as keyword optimization, user experience and page speed, content quality, and technical SEO factors, will take center stage in determining how well a webpage ranks on search engine results pages (SERPs). In this ever-dynamic atmosphere, it becomes crucial to stay updated and align with the latest SEO factors to maintain a competitive edge and ensure online visibility.
Keyword Optimization
Keyword Optimization and Its Importance
Keyword optimization forms the spine of an effective on-page SEO strategy in 2023. Targeting the correct set of keywords is critical to reach your potential audience who use these words while searching for information, products, or services in search engines. The goal of Keyword optimization is to improve the visibility of a website or a specific web page in search engine results pages (SERPs).
How to Identify Target Keywords
Identifying and selecting target keywords is a crucial step in the SEO process. Start by brainstorming a list of words and phrases related to your product, service, business, or industry. Online tools like Google AdWords Keyword Planner, Semrush, or Moz's Keyword explorer can help you find the most popular terms used by consumers in your niche. Cross-reference this list with your competitors' keywords to ensure you're not missing out on any potential traffic.
The Role of Long-tail Keywords
Long-tail keywords are longer, more specific keyword phrases that visitors are more likely to use when they're closer to the point-of-purchase or when they're using voice search. These keywords are beneficial because they often have less competition and a higher conversion rate. For instance, targeting a unique long-tail keyword such as "winter women's hooded down jacket" would be more effective than a common keyword like "winter clothes".
Semantic Search and LSI Keywords
Semantic search and latent semantic indexing (LSI) keywords have become increasingly important in 2023's SEO landscape. Semantic search improves accuracy by understanding the searcher's intent and the contextual meaning of terms in connections. LSI keywords are conceptually related words that search engines use to deepen their understanding of a topic on a webpage. Both are critical for on-page SEO because they enhance the relevance and comprehensiveness of your content in the eyes of search engines.
Keyword Placement in Content, Headers, Page Titles, and Meta Descriptions
While using keywords in your content is crucial, their placement is also key to SEO success. Most importantly, include them in your headers, page titles, and meta descriptions.
Page titles are the most important SEO element on your webpage. They need to be descriptive, concise, and contain your focus keyword. Headers such as H1, H2, H3, serve as the chapter titles and subheadings of your webpage. Including keywords in headers makes Google recognize the relevance of your content with the search query.
Meta descriptions are short summaries of page content that appear under the page title in SERPs. Inserting keywords into meta descriptions can increase the click-through rate (CTR) and can boost your website's visibility.
In the content body, aim to include keywords naturally and contextually. Do not stuff them forcefully into the content as search engines may penalize this.
In an era where the digital world is constantly evolving, updating your on-page SEO strategies is vital. As you approach 2023, pay special attention to the efficient utilization of keywords. Researching suitable keywords, understanding and utilizing long-tail, semantic, and LSI keywords, and proper keyword placement are not only important but are some of the most crucial factors to consider for enhancing your on-page SEO.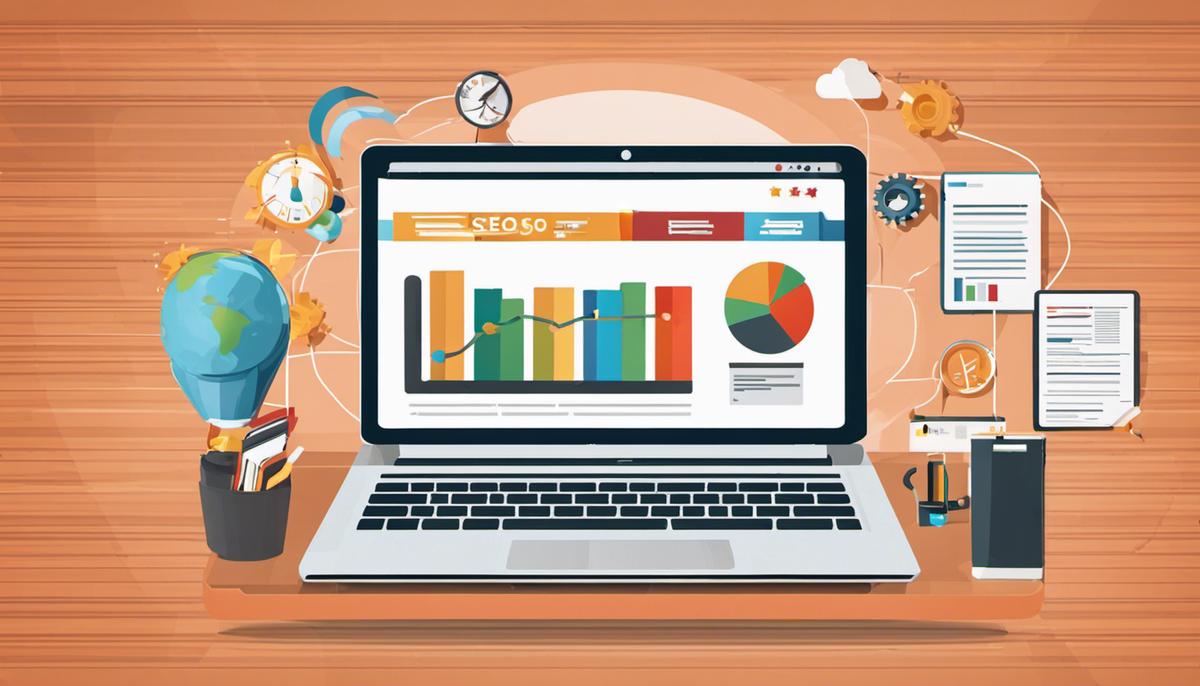 User Experience and Page Speed
Focusing on User Experience: A Predominant On-Page SEO Factor
One such paramount factor that has gained momentum in determining the effectiveness of SEO strategies is User Experience (UX). It's a core component dictating how a user interacts with a website. More so, search engines, especially Google, have started to consider UX a critical frame of reference in ranking parameters. As you position yourself for 2023, remember that any effective on-page SEO strategy will necessitate a laser-sharp focus on optimizing user experience, which is now a key component in Google's search algorithms.
In the vast landscape of SEO, user experience encompasses a range of elements such as a seamless navigation experience, relevancy, superior content quality, and the overall aesthetic appeal of the website. These collective factors play a deciding role in determining user behavior on your website, whether they choose to bounce off quickly or stay back and engage with your content.
Page Speed's Role in User Experience and SEO
The speed at which a web page loads, also known as page speed, is another major element that contributes significantly to the user experience. Slow page load times frustrate users, suggesting an immediate negative user experience, and may compel users to exit your site early, thereby increasing your website's bounce rate.
Google recognizes the direct impact of page speed on user experience. The search engine giant even made it an official ranking factor in July 2018, affirming that sites with slower load times could be penalized in search rankings. As such, focusing on enhancing page speeds is a must for improved UX and higher Google ranking in 2023.
Mobile Optimization Influencing SEO Ranking
The prevalence of mobile users worldwide necessitates that websites are mobile optimized – designed to display correctly on smaller screens such as smartphones and tablets. An optimized mobile site is user-friendly, meaning it reduces excessive scrolling, zooming, or unplayable media, which many users find frustrating.
Google roles out mobile-first indexing in 2021, meaning it uses the mobile version of a website's content for indexing and ranking. Hence, an unoptimized mobile site could lead to a drop in your site's ranking on search engine results pages (SERPs). As such, mobile optimization is another major on-page SEO factor that needs focused attention in 2023.
Site Navigation Contributing to User Experience
A straightforward and intuitive site navigation structure does not just influence UX but also contributes to SEO. A well-structured website makes it easy for users to navigate through different pages, improving their overall experience and encouraging them to stay longer on the site. Moreover, a logically structured site is easier for search engines to crawl and index, thus improving your website's visibility in search results.
Incorporating user friendly features, including easily identifiable links, search feature for site-wide search, proper categorization of information, breadcrumb trails, among others enhances site navigation tremendously. Investing into these aspects will remain beneficial as top SEO considerations in 2023.
In the ever-changing digital landscape of 2023, the focus of on-page SEO will continue to be on user experience. Aspects that construct a top-notch user experience – such as swift page speed, effective mobile optimization, and clear, intuitive site navigation – are not only necessary to attract and retain users but crucial in achieving a superior SEO ranking. Developing and maintaining these elements will drive more traffic to your site and improve your online visibility.
Content Quality and Engagement
The Indispensable Role of Content Quality in On-Page SEO
When aiming for successful on-page SEO, one must not forget the cardinal role that high-quality content plays. In 2023, the correlation between the quality of your content and your SEO is larger than ever. Search engines like Google consider well-curated, informative, and distinct content that adds real value to readers very positively. As a result, frequently updated and unique content is more likely to be indexed and secure higher rankings on search engine results pages (SERPs), bolstering your website's visibility and organic traffic. Equally important is the creation and presentation of your content, which should be coherent, easy to read, and free of grammatical pitfalls. Adherence to these guidelines directly impacts your SEO rankings.
Incorporating Multimedia Elements
Another crucial on-page SEO factor to consider in 2023 is the inclusion of multimedia elements. Images, videos, infographics, podcasts, and other visual or audio content increase the engagement level of your website. These components help to break up text-heavy content, making it more pleasing to the eye and easier to digest. It's also important to optimize these multimedia elements for SEO. This includes using SEO-friendly file names, incorporating alt text for images, ensuring that video content is engaging, and utilizing keywords and descriptions where appropriate.
Engaging Visitors and Increasing Dwell Time
Engagement metrics, such as the time spent on a page and bounce rates, are also important considerations for on-page SEO. Websites that engage users intrinsically have lower bounce rates and longer dwell times, indicating a positive user experience. This user behavior is registered by search engines and can contribute to better ranking signals. Therefore, it's important to produce engaging content that captures users' attention and encourages active interaction, such as comments, shares, and likes.
The Importance of Internal Linking
Internal linking is another essential SEO factor. It refers to the practice of connecting one page of your website to another page on the same website via hyperlinks. This practice not only improves the navigation of your site but also helps in structuring and hierarchizing your website's content, ensuring all your pages are accessible to both the users and search engine crawlers. Moreover, strategic internal linking helps guide users spend more time on your website by encouraging them to explore other relevant pages. To reap the full benefits, make sure your internal links are contextually appropriate and point to relevant and high-quality pages.
Optimizing User Experience
In 2023, SEO has transcended from merely appealing to search engine algorithms to focusing predominately on the user's experience. Whether the webpages are smoothly navigatable, load at lightning speed, display correctly on various devices, and offer relevant, top-notch quality information, greatly influences their ability to hold onto users and gain impressive search engine result page rankings. Therefore, refining user experience commonly includes optimizing technical aspects such as website architecture, mobile optimization, website speed, and security. It also gives considerable importance to content quality and internal linking structures.
Technical SEO Factors
Emphasis on Structured Data Markup and URL Structure
It's vital to integrate structured data markup as an integral part of on-page SEO efforts. The structured data markup adopts a standardized format to present the search engines with detailed information about a webpage and the content it encompasses. This valuable data can enhance a website's search visibility, eventually contributing to higher click-through rates and an improved ranking. For instance, structured data can enable a search engine to exhibit rich snippets such as star ratings or price brackets, thereby making the search results more enticing.
The URL structure also plays a critical role in SEO. An ideal URL structure is easily understandable, relevant, and incorporates the target keyword specific to the page. It's crucial to aim for simplicity and transparency while formulating URLs since intricate URLs can bewilder both search engines and visitors.>
XML and HTML Sitemaps, Robots.txt Files
XML sitemaps serve as a roadmap for search engines, aiding them in locating key pages on your website even if internal links aren't perfect. HTML sitemaps, on the other hand, are primarily designed for users, helping them find content on your site that might not be available via site navigation.
Robots.txt files are crucial as they guide search engine bots to either crawl or ignore specified parts of your website. Proper use of robots.txt files helps optimize the crawl budget, prevent duplicate content issues, and ensure that search engines index the right pages.
Evolution of AMP, Mobile-first Indexing, and HTTPS
Another significant on-page SEO development in 2023 is the continued evolution of Accelerated Mobile Pages (AMP). AMP's purpose is to provide faster page load times on mobile devices, offering an improved user experience. Websites utilising AMP often see increased visibility in search engine results, which can lead to higher traffic.
Mobile-first indexing is a change by Google to prioritize mobile versions of websites in their ranking algorithm. It requires your website's mobile version to be fully functional and offer the same content as your desktop version. Non-mobile-friendly sites will suffer ranking penalties in 2023.
HTTPS (HyperText Transfer Protocol Secure) has become a new standard in providing secure communication over a computer network. It has been a conditional ranking factor since 2014, as Google pushes for more secure internet browsing. Websites without HTTPS might be flagged as 'not secure' by browsers, which could affect the trust of potential visitors and, consequently, traffic and rankings.
For better SEO results, focusing on technical on-page SEO aspects like structured data markup, improving URL structure, proper usage of XML and HTML sitemaps, robots.txt files, and the evolving role of AMP, mobile-first indexing, and HTTPS is recommended in 2023.
As we forge ahead into 2023, it's clear that mastering on-page SEO calls for a deep understanding of various factors – from keyword optimization and content quality to user experience, page speed, and technical aspects. Integrated within each of these factors lies the potential to significantly improve the visibility of a web page in a crowded online space. Therefore, creating a well-rounded SEO strategy that addresses these key areas will not only enhance the web page's performance but will also lead to a more fulfilling user experience, thereby paving the way for better rankings and increased online visibility.