With globalization and the advent of the internet, e-commerce has grown by leaps and bounds. Online businesses have flourished and in this age, the need for digital marketing has increased significantly as well. Not only is digital marketing a great way to advertise a business, it is also a lot of cost effective than traditional marketing techniques. With digital marketing, one also has the option to go completely waste-free, meaning that it is sustainable and environment friendly as well. However, as with every good thing, digital marketing too comes with its own drawbacks – that is, competition.
Why analytics are important?
To make sure that you are making the maximum profit, it is very important to keep track of the traffic on your website. Checking analytics of published posts will give you the leverage you need to stay above the competitors. Whether you are new to digital marketing, or a veteran, it is important to realise the need for running analytics on your website.
Wondering why analytics is so important? Take a scenario. Suppose you have published five pieces. By looking at their individual analytics, you can find out which of these five posts did best – that is, which ones generated the most traffic. You can find out which of your published posts received the maximum amount of engagement from your audience. Armed with this knowledge, you can make target pieces which will draw in more engagement.
Why you must check your competitor's analytics?
However, it is not enough to simply be aware of the analytics of your own page. The world runs on competition, and to stay ahead, one must know their opponents strengths and weaknesses intimately. It is no different with the world of digital marketing. To stay ahead at all times, you must also be familiar with your competitor's analytics.
By checking your competitor's analytics, you can get an estimate of the amount of traffic their website is generating, the number of page views, the average number of audiences who engage actively with their posts and base your marketing plan on this knowledge so that you can effectively beat your competitors. Knowing your competitor's analytics gives you a concrete goal that you can work hard on reaching!
How to check website traffic of your competitors?
If you are new to the world of digital or e-marketing, you might be wondering where to start. All this new information can be overwhelming and you might feel confused and demoralised. But don't give up yet! In this article, you will find information on how to check the website traffic of your competitors so that you can effectively manage competition. Below is a list of the top 5 tools to check website traffic of your competitors that you can use to easily update yourself on how much traffic your competitors are generating! Read on to find out what they are!
Top 5 tools to check website traffic of your competitors
Here is a list of some of the finest online traffic estimate websites that you can use to gain advantage over your competitors.
Ahrefs:
This website is perfect for when you need to do research on links. Ahrefs.com updates their index every half an hour. This ensures that the data you get is fresh, up to date and completely reliable. It shows with significant accuracy the organic traffic generated by a website. Ahrefs is one of the top 5 tools to check website traffic of your competitors and has a database of over 45 million keywords ranked by their relevancy, and sourced from multiple major countries all over the world. It also lets you export reports if you wish to do so!
SEMRush:
Another one of the top 5 tools to check website traffic of your competitors, SEMRush.com is best known for its efficiency and accuracy. The free version of SEMRush allows users to access the basic data that one might need in order to estimate traffic. The full version, which is priced at $499 is the plan used by most of the serious websites and bloggers. This plan gives the full analytics, complete with a ranked list of keywords used by the website masters to increase post visibility and post engagement.
Alexa:
The best thing about Alexa.com, one of the top 5 tools to check website traffic of your competitors, is that it allows you to keep an eye on the general traffic trends. This allows you to follow these common trends of website traffic to create a website or posts that will bring the most amount of engagement from the client base. Another great thing about this website is that it provides a list of the top search queries for the website as well. The only drawback to Alexa is that it does not take into account websites which are new and get only about a hundred or so visits per month.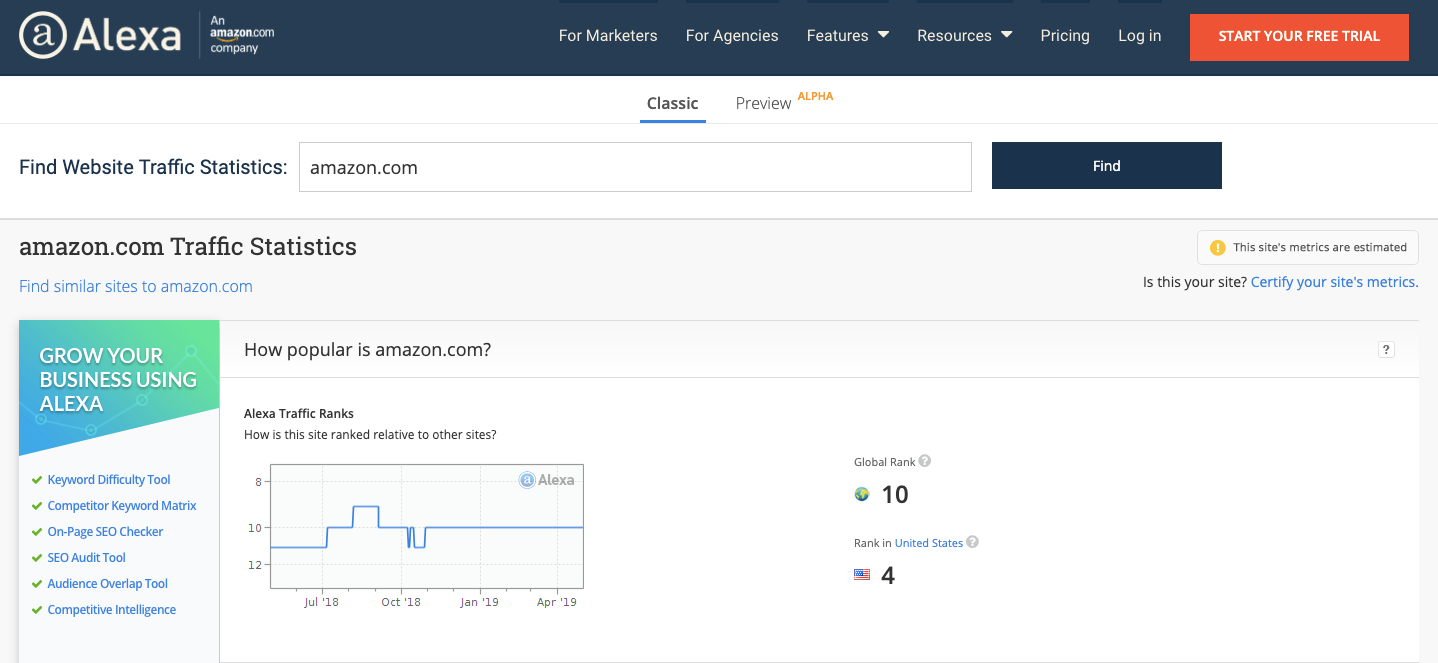 Google AdWords Display Ad Planner:
When it comes to accuracy, Google AdWords Display Ad Planner possibly takes the first place among the top 5 tools to check website traffic of your competitors. It provides advertisers the chance to look for opportunities to advertise effectively.
Intention to Advertise:
This is a simple method and the best technique to know the accurate traffic of your cometitor. When you contact website masters or bloggers with the intention of placing your advertisements on their websites, they will readily agree to share their stats and analytics with you. While some websites might not be open about the numbers, most will be only too happy to share. However, you can also contact a website owner with no intentions of advertising on their website and get their Google Analytics data to spy into their data. Even though this crosses an ethical line, the decision to use this technique is purely up to you! If not, there are other websites you can use to estimate traffic without having to compromise on your morals.
Using these 5 tools to check website traffic of your competitors, you can easily estimate the traffic being generated by other websites and also compare your own website with theirs to gain more insight into how to increase engagement and boost your posts. So what are you waiting for? Everything you need to know to make your website successful is right here!