In the dynamic world of digital marketing, Search Engine Optimization (SEO) reigns as a key tactic in gaining visibility for your website. Understanding the intricacies of SEO and its integral role in driving traffic, improving rankings, and boosting website discoverability is an utmost necessity in this digital age. Breaking down the complex structure of SEO into two primary categories, on-page and off-page SEO, enables us to delve deeper into how certain components can be optimized to enhance a page's visibility. This compelling guide primarily focuses on On-Page SEO, a pivotal strategy in controlling the relevancy signals of a website via elements that you can directly manipulate on your own pages.
Understanding SEO and Its Importance
What is SEO?
Search Engine Optimization (SEO) is the process of optimizing your online content so that search engines like Google show it as a top result for searches of a certain keyword. It involves the use of strategies, techniques, and tactics that increase the number of visitors to your website by obtaining a high-ranking placement in the search engine results page.
Components of SEO
The two main categories of SEO are on-page and off-page SEO. Each component holds its own level of importance and relevance in the overall process. On-page SEO involves optimizing elements that are within the control of your website – such as keyword placement, page load speed, URL structures, internal linking, meta descriptions, and content creation. On the other hand, off-page SEO relates to activities carried out outside of your website – such as backlink building, social bookmarking, and social signals.
Importance of SEO
SEO is important as it increases your website's visibility among potential customers. The higher that your webpages rank on Google results pages, the more likely you are to garner attention and attract prospective and existing customers to your business. This contributes to higher organic traffic, an increase in credibility, and better search engine rankings. SEO also helps in creating a better and faster website for users.
Understanding On-Page SEO
On-Page SEO is a critical component of SEO. This is because it deals with all aspects of your website that you can control best. By adopting a robust on-page SEO strategy, you can increase your visibility in the search engine results pages (SERPs) and naturally attract more traffic to your site. Some of the most crucial on-page SEO factors include title tags, content of a page, URL structure, image alt text, and page loading speed.
Why On-Page SEO is crucial
On-page SEO is essential for improving visibility and search engine rankings because it helps search engines understand your content and see whether it is relevant to what a searcher is looking for. When successfully done, on-page SEO also improves the usability of a website, making it easy for users to navigate around. Additionally, on high performing webpages, visitors are more likely to share the page on their social networks – producing a variety of beneficial results, including improved rankings. Optimizing your pages using on-page SEO strategies is an effective way to boost your website's visibility and performance on search engines, leading to more traffic and conversions.
Conclusion
Understanding and implementing effective and all-encompassing on-page SEO is fundamental for the advancement and prosperity of your website as well as your business. This is a continuous and ever-changing endeavor, so it's vital to stay current with SEO trends and adapt your techniques accordingly.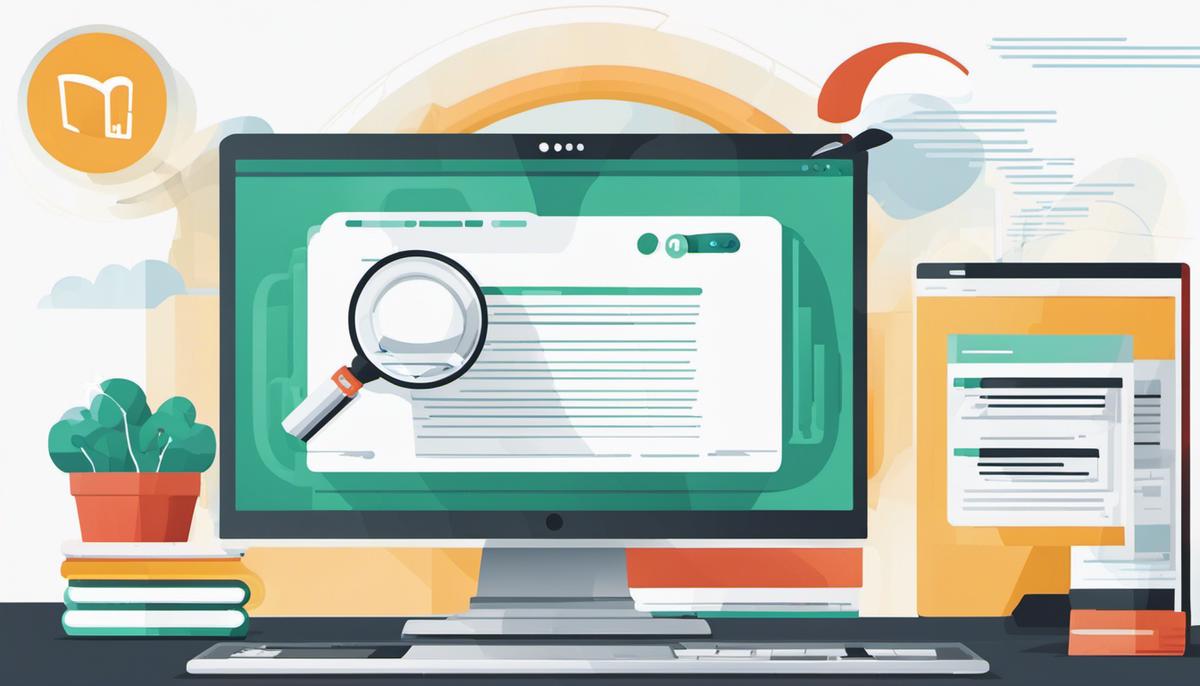 Key Components of On-Page SEO
Title Tags
The title tag is the defining descriptor of a webpage and is displayed as clickable headlines on Search Engine Results Pages (SERPs). These tags are essential not only for SEO, but also for user-friendliness and social media sharing since they're usually the first thing a user sees when performing search engine queries.
Meta Descriptions
Meta descriptions are short text snippets that offer a comprehensive summary of a webpage. The role of meta descriptions goes beyond describing the page, as they strongly influence click-through rates from search results. While they don't directly influence a page's rank, compelling meta descriptions can boost organic traffic.
URLs
URLs are essential for on-page SEO as they help users and search engines recognize and interpret a webpage's content. Search engines like Google use them to understand the webpage's relevance to a search query. A user-friendly URL that accurately reflects the page's content is expected to rank higher in search results.
Header Tags
Header tags, namely H1 through H6, organize and structure your content making it user-friendly and easy to navigate. The H1 tag typically contains the webpage title representing the main topic of the page. It's also useful for signal relevance to search engines about the content of your webpage.
Image SEO
Image SEO pertains to optimizing images on your webpage. This is achieved through proper file names, alt attributes, ensuring the image size is optimized for speed, and considering how the image displays on various devices. Proper image SEO helps search engines understand the image's context, contributing to improved page rank.
Keyword usage and targeting
Keywords are words or phrases that users type into search engines in their query. Proper keyword targeting and usage ensure that your website is visible to people looking for the type of content, product, or service you offer. Keywords should ideally be used in the title tag, meta description, URLs, header tags, and within the main content.
Internal and Outbound Linking
Internal linking is the process of linking your content to other pages within your site, which helps guide users further into your website and can help to improve ranking. Outbound linking refers to linking your page to external websites. This can increase relevance, passing on credit to other relevant sites, and may improve your website's SEO.
On-page SEO encompasses several components, each of which plays a vital role in enhancing the website's usability. If implemented correctly, these elements serve to increase organic traffic and improve the position of the site on search engine results pages (SERPs). This improvement results in expanded online visibility and increased awareness about your business or brand.
Effective keyword use and optimization
Diving Deeper into Effective Keyword Use in On-Page SEO
One of the crucial aspects of on-page SEO involves the judicious use and optimization of keywords. This process entails optimizing individual webpages to attain a better rank and in turn, attract more pertinent traffic from search engines. It requires identifying appropriate keywords and incorporating them into your content in the most effective manner.
Keywords, or search terms, are the phrases that internet users insert into search engines when they are seeking specific information or products. The critical role of these keywords is to form a bridge that connects what people are searching for to the content that you have to offer. A key to an effective webpage optimization is understanding what keyword phrases your potential audience might use when searching for the products, services, or content that you provide.
Choosing Appropriate Keywords
Identifying appropriate keywords is an integral part of this task. Effective keywords should reflect what your content provides and should also be terms that your desired audience uses. The trick is to look for keywords that have high search volumes but lower levels of competition.
Keyword research tools, like Google's Keyword Planner, SEMrush, or Moz's Keyword Explorer, can be invaluable in finding the proper keywords. These tools can help you understand the volume of searches for a particular keyword, how competitive that keyword is, and can even suggest new keywords you might not have thought of.
Strategic Keyword Implementation
Once you have identified your keywords, the next step is placing these keywords strategically in your content. It is important to integrate keywords naturally into your content; search engines may penalize websites that excessively repeat keywords, a practice known as keyword stuffing.
Areas to integrate keywords include the Title Tag, which is the most important place to use your primary keyword. It should also be used in the Meta Description, an HTML attribute that provides a concise explanation of the content of a webpage. Your primary keyword should also be in your URL and throughout your content, particularly in the first 100 words of your page.
The Role of Long-tail Keywords and Keyword Density
Long-tail keywords play a significant role in a successful on-page SEO strategy. These specific multi-word phrases are less competitive and target a more particular query or audience. Because these keywords are typically more related to the searcher's intent, they often convert at a higher rate than shorter, more general keywords.
Keyword density refers to the frequency at which your chosen keyword appears on your web page. Although there isn't a strict rule or percentage to achieve, it is advised to keep your keyword density natural and relevant to your content. Overusing a keyword or forcefully stuffing it into your content can be counterproductive and could lead to penalties from search engines.
Overview
Performing effective keyword utilization and optimization is a careful process. It isn't just about selecting a keyword and incorporating it into your content. Instead, it requires an in-depth knowledge of your target audience, comprehensive keyword research, strategic and organic keyword placement, all while adhering to search engine rules and regulations.
Page Content and User Engagement
Core of On-Page SEO: Page Content
Your webpage content is the bedrock of on-page SEO – without it, your webpage holds no value. This content is the primary element that lures visitors, engages them, and provides valuable data to Google's spiders as they crawl and index. The relevance and quality of your content are crucial, as they influence your ability to optimize your webpage for both search engines and users. When visitors discover meaningful and beneficial content on your webpage, they are more likely to stay, interact, and ultimately complete the desired actions.
Content Quality: A key aspect of On-Page SEO
The quality of the content on your webpage plays an essential role in SEO. Quality content is readable, knowledgeable, engaging, and original. Duplicate or thin content is often penalized by Google. To create quality content, it is essential to have in-depth knowledge of the subject and ensure that the content is unique and provides value to the users. Present the information clearly and concisely and use a variety of content formats like text, videos, graphics, and others to enrich the user experience.
Creating Relevant Content: Critical for On-Page SEO
Apart from quality, the relevance of the content is equally important in on-page SEO. It refers to how well your content matches the expectations of the users based on their search queries. Google ranks pages based on the relevance of their content to these queries. Keyword research is a practical tool for understanding what your target audience is searching for and how. Naturally incorporate these keywords into your content to make it more relevant to user searches.
User Engagement: An overlooked aspect of On-Page SEO
User engagement is an essential aspect of on-page SEO that often gets overlooked. Users who find your content valuable and engaging are more likely to spend longer periods on your website, known as 'dwell time' – another key ranking factor for Google. Create content that encourages these interactions. This may include asking your readers a question, incorporating interactive quizzes, or using compelling call-to-actions (CTAs).
Balancing SEO and User Experience
While it's important to optimize page content for search engines, do not overlook the user experience. Search engines reward websites that provide an exceptional user experience, as they interpret user engagement as a sign of quality, relevance, and trustworthiness. You can enhance user experience by making your site easy to navigate, loading pages quickly, structuring content well, and designing your website responsively for all types of devices.
Understanding the significance of page content and user engagement in on-page SEO sets a robust foundation for amplifying your website's visibility and engagement levels. To genuinely excel in SEO, it's vital to grasp the skill of fabricating high-quality, relatable content that not only drives traffic, but also ensures sustained user involvement.
Technical Aspects of On-Page SEO
Comprehending the Technical Elements of On-Page SEO
On-page SEO encompasses the optimization of individual web pages to achieve a higher ranking and draw more relevant traffic from search engines. It covers both the visible content and the concealed metadata. The technical components of on-page SEO, including website speed, mobile compatibility, page security, XML sitemaps, and schema markup, are absolutely crucial for ameliorating a website's visibility and its ranking on search engines.
Site Speed and SEO
One of the key technical aspects of on-page SEO is the speed of your website. Site speed refers to how quickly web pages are downloaded and displayed on the user's web browser. Search engines like Google consider site speed as a ranking factor for both desktop and mobile searches. Faster site speed provides a better user experience and increases the likelihood of visitors spending more time on your website, leading to higher conversion rates. Various tools like Google's PageSpeed Insights can help measure and optimize a site's speed.
Mobile-Friendliness in On-Page SEO
Mobile-friendliness is another crucial factor in on-page SEO. With the growing number of users accessing the web from mobile devices, Google has shifted to mobile-first indexing, meaning it predominantly uses the mobile version of the content for indexing and ranking. Therefore, if your site isn't optimized for mobile, it could negatively impact your SEO rankings.
Security and On-Page SEO: HTTPS Importance
Beyond speed and mobile-friendliness, the security of your web page is another critical element of on-page SEO. Search engines prioritize safe and secure browsing for their users. As such, sites that use HTTPS, which is a secure version of HTTP, often have better rankings than those that don't. To switch from HTTP to HTTPS, a site needs to obtain and install an SSL certificate.
XML Sitemaps and SEO
Sitemaps play an essential role in SEO. An XML sitemap is a file where you provide information about the pages, videos, and other files on your site and the relationships between them. This helps search engines understand your website's structure and crawl it more efficiently. You can create an XML sitemap using various online tools and plugins, and submit it to search engines through their webmaster tools.
Harnessing the Power of Schema Markup
Schema Markup is a form of microdata, when added to your webpage, it creates an enhanced description (commonly known as a rich snippet), which appears in search results. Schema helps search engines understand your content more effectively, hence potentially leading to a better ranking.
Importance of User Experience in SEO
User experience is becoming increasingly important for SEO. Search engines look favorably on websites that offer a great user experience – this includes fast load times, easy navigation, mobile-friendliness, valuable content, and minimal pop-ups or obstructive ads. Investing time and resources in these aspects could significantly improve your website's rankings on search engine results pages.
Each of these technical aspects of on-page SEO plays a significant role in improving visibility and rankings. Ignoring any one of them can significantly hinder your SEO performance. Therefore, it's essential to ensure your website ticks all these technical boxes.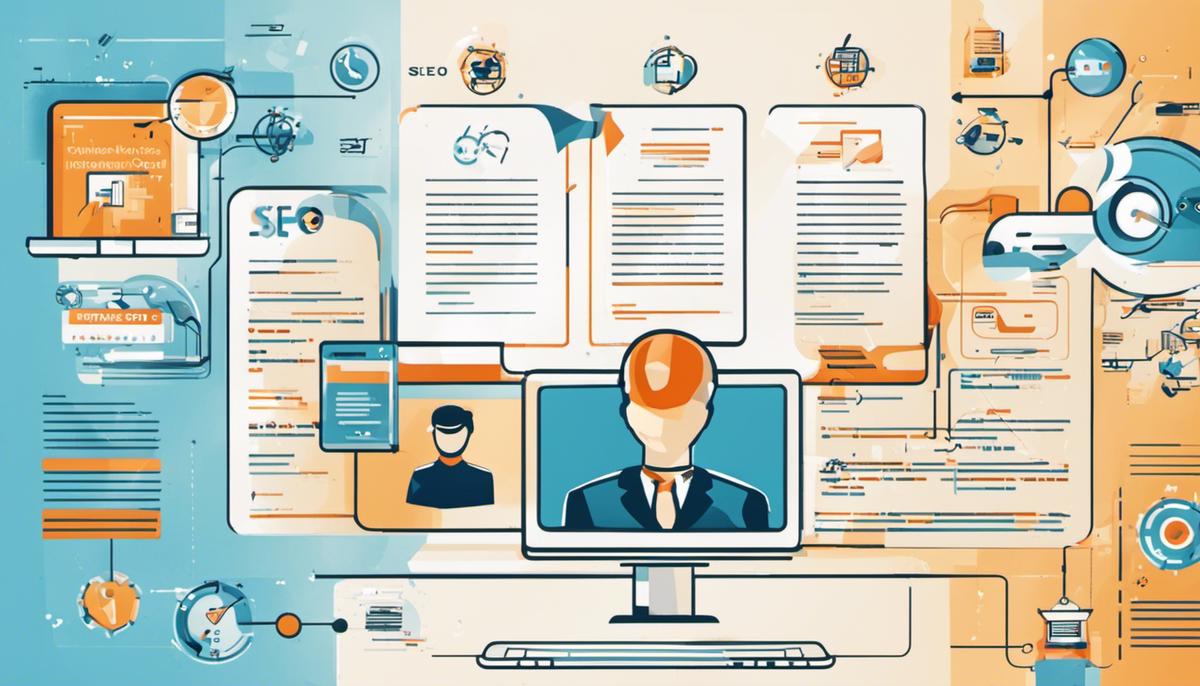 Having traversed through the technicalities of on-page SEO, we have seen how the effective optimization of various elements can serve to enhance your website's visibility and relevancy. From the critical role of keywords and user-engaged content to the influence of technical aspects like page security and mobile-friendliness, a comprehensive understanding of these components is crucial in achieving your SEO goals. Recognizing and implementing the strategies and tactics outlined in this guide is your initial step towards making remarkable strides in your journey to SEO prominence and success, placing you in the driver's seat in the ever-evolving digital marketplace.