Embarking on the path of building a robust online presence requires more than just creating compelling content. It necessitates a deep understanding of several key factors that significantly influence your online visibility. One of these pivotal factors is on-page Search Engine Optimization (SEO), a potent tool that has a direct impact on how search engines perceive and rank your web pages. This journey of mastering on-page SEO, the strategic use of keywords, effective heading creation, and leveraging necessary tools and metrics will offer you invaluable insights into improving your website's performance and audience reach.
Understanding On-Page SEO
Understanding On-Page SEO.
On-Page SEO, or on-site SEO, refers to the processes or strategies applied on a webpage to boost its visibility and ranking on search engine result pages. It encompasses all aspects located within a particular website that can be optimized to improve its position in search rankings. This can involve factors like content quality, keyword usage and placement, internal linking, URL structure, meta descriptions, and title tags, among many others.
Importance of On-Page SEO.
An effective on-page SEO strategy is crucial for search engine visibility. This optimization allows search engines to understand the content and context of your webpage. Such an understanding helps to index your site correctly and thereby, increases the chance of appearing in relevant search engine results. Moreover, a high-quality and valuable content – a primary constituent of on-page SEO – attracts users and maintains their interest, leading to a higher dwell time and a reduction in bounce rates.
Difference Between On-Page SEO and Off-Page SEO.
While on-page SEO refers to the optimization of website elements that are visible to users and search engines, Off-Page SEO focuses on increasing your website's authority and reputation by procuring high-quality inbound links (backlinks) from other sites. Off-Page SEO efforts are typically focused on activities like link building, social media marketing, and influencer outreach, among others. Both are integral to a comprehensive SEO strategy and work together to improve your site's search engine ranking.
Role of User Experience in On-Page SEO.
Good user experience is emerging as a significant factor in on-page SEO. Google's algorithm updates now take into account user behavior metrics like page load speed, user engagement, dwell time, and bounce rate when determining page rankings. It means websites providing an excellent user experience tend to rank higher in search engine results.
Writing Effective Headings for On-Page SEO.
Headings play a crucial role in on-page SEO. They help search engines understand the structure and content of your webpages. Headings should incorporate relevant keywords and clearly reflect what the section or page content is about. They also need to be engaging enough to draw the reader's attention. A clear, keyword-rich, and captivating heading boosts not only your SEO efforts but also the user's experience on your site.
Keyword Research
Understanding the Importance of Keyword Research
Keyword research is a crucial part of on-page SEO, helping to optimize your webpage for organic traffic. This process involves finding and analyzing actual search terms that people enter into search engines. The main goal here is to understand the trends and demand of these targeted terms and phrases, which can help create more optimized titles and headings.
Start with a Seed List of Targeted Keywords
The first step to effective keyword research is to create a seed list of keywords that are relevant to your company, services, or products. These purposely-selected keywords will pave the way for further expansion of keyword lists. The targeted keywords should be words or phrases that potential customers or audience members would use when searching for your services or products online.
Use Keyword Research Tools
To simplify and effectively carry out keyword research, use specialized tools such as SEMRush, Google Keyword Planner, or Ahrefs. These tools can generate hundreds of keyword suggestions based on your seed keywords. Additionally, they provide information on search volume (the number of searches per month), competition (how many websites rank for the keyword), and keyword difficulty (how hard it is to outrank competitors).
Analyze Keyword Metrics
Once you have a list of potential keywords, it's important to analyze the metrics behind them. Look at the search volume to see how many people are searching for the keyword, the keyword difficulty to understand how hard it would be to rank for the keyword, and the cost per click to see if the keyword is valuable in terms of conversions.
Understanding Long-Tail Keywords
Long-tail keywords are longer and more specific keyword phrases that visitors are more likely to use when they're closer to a point-of-purchase or when they're using voice search. They're a little bit counter-intuitive, at first, but they can be hugely valuable if you know how to use them. By optimizing your content with long-tail keywords, you are likely to reach a more targeted audience that is more likely to convert.
Incorporating Keywords into Headings
Your main targeted keyword should ideally appear in your main heading (H1), while secondary keywords can appear in subheadings (H2-H6). The key here is to include these keywords naturally, making sure the headings are relevant to the content and engaging for the reader. Remember, a heading is the first thing that attracts the reader's attention, so it should be enticing and accurate.
Tracking the Success of Your Keyword Strategy
Once your pages are optimized with the right keywords in their titles and headings, remember to monitor your site's performance. Use tools such as Google Analytics to track which keywords are driving traffic to your site. This analysis will give you insights to tweak your strategy if needed. Constant monitoring and adjustment are key to an effective SEO strategy.
By following these steps, you can effectively conduct keyword research and incorporate these findings into your on-page SEO strategy to optimize headings and content. The process requires time and patience, but a well-optimized page is invaluable in driving organic, sustainable traffic to your site.
Writing Effective Headings
Understanding the Importance of On-Page SEO Headings
Headings play a significant role in optimizing search engine ranking. Search engines such as Google use these headings to understand the content of a webpage, and also, to determine its relevance to a user's search. By incorporating keywords into headings, webmasters and content creators can improve their chances of appearing in search results for those keywords.
Utilizing the H1 Tag Effectively
The H1 tag should be used for the main title of the page. This is typically the first thing users see when they visit your website, so it should be appealing and reflective of the content of your page. For SEO purposes, it's important to include your primary keyword in the H1 tag. However, avoid keyword stuffing, as this could potentially harm your rankings.
Optimizing Your Webpage with H2 Tags
H2 tags are subheadings and are used to break down the content of your page into digestible sections. These tags should be used to effectively guide the reader through your content, while also supporting the main keyword or theme introduced in the H1 tag. Including relevant secondary keywords in your H2 tags can help improve your SEO ranking.
Making Your Headings Attention-Grabbing
To ensure maximum engagement, headings should not only include relevant keywords but should also be enticing and succinct. A good heading should provoke curiosity and encourage the reader to keep reading. Making use of power words, numbers and questions in headings can make them more compelling.
Ensuring Mobile-Friendliness of Your Headings
With the increasing use of mobile devices for web browsing, ensuring that your headings are mobile-friendly is crucial. Long headings may not fully display on smaller screens, so keep them short and concise. Make sure they still make sense and remain impactful even when truncated.
Maintaining Clarity and Relevance
While optimizing for SEO is important, don't lose sight of the user experience. Every headline should be clear, relevant, and offer value to the reader. Avoid using misleading or clickbait headings as this can result in high bounce rates which can negatively affect your SEO.
Practicing Consistency Across Your Website
Ensure that you have consistent usage of H1, H2, and subsequent heading tags across your website. This not only strengthens your SEO strategy but also improves the user experience by offering a predictable and organized content structure.
Following these guidelines can significantly improve the effectiveness of your on-page SEO efforts. Always remember that quality content and an excellent user experience are the foundations of good SEO practice.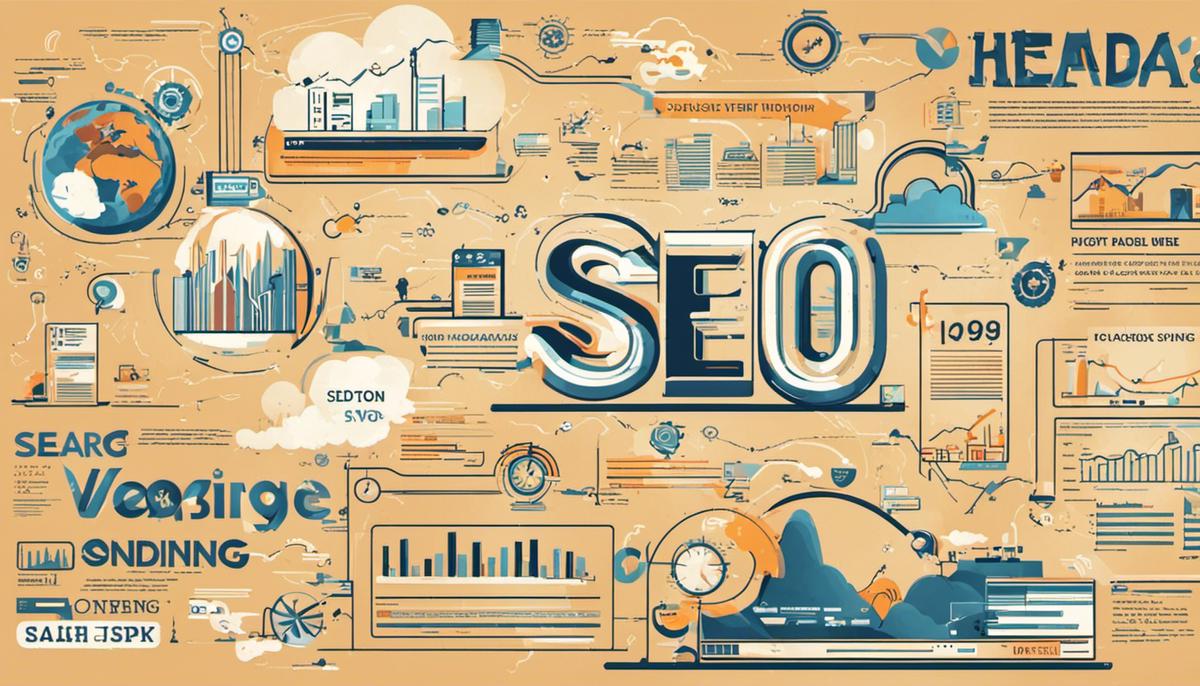 Tools and Metrics for SEO
Understanding SEO and Its Importance
Search Engine Optimization (SEO) is the process of enhancing a website to make it easy to understand and index by search engines. Proper SEO enables search engines like Google to accurately determine what your webpage is about and how valuable it is to users. The greater the value, the higher the ranking on search engine results pages (SERPs). Headings play an integral role in this process. They break up the content, making it easier for readers and search engines to understand your content.
Differentiating SEO Heading Types
The main types of headings are H1, H2, H3, H4, H5, and H6. The H1 tag is always the title of your webpage and there should only be one on each page. Next in hierarchy comes the H2 tag, which works as the subheading to the H1 tag. They should contain related or similar keywords to the main tag. Following H2 tags are H3-H6 tags, which serve to break down the content into digestible sections and should also contain related keywords.
Crafting Effective SEO Headings
The success of your headings largely depends on the keywords you choose. Use your main keyword in the H1 tag, and related keywords in the H2 and following tags. Keywords should reflect what users are looking for, which you can find using keyword tools such as Google Keyword Planner or SEMrush. Make sure your headings are reflective of the content they're introducing, and keep them concise and catchy to attract user attention.
Google Analytics: Measuring SEO Success
Google Analytics is a comprehensive tool that provides insights into your website's traffic sources, user demographics, real-time data, and more. To check the effectiveness of your SEO, you can pay attention to organic traffic growth, bounce rates, and pages per session. If your SEO is effective, organic traffic should increase, while bounce rates should decrease. More pages per session mean users find your content relevant and helpful.
Google Search Console: Keeping Track of Website Performance
Google Search Console helps you monitor, maintain, and troubleshoot your site's presence in Google Search results. It offers valuable reports that can show you which keywords people used to find your website, which pages are performing the best, and how your site is performing in Google rankings. If you notice any pages with poor performance, those might need heading optimization.
Keyword Ranking Tools: Checking SEO Progress
Finally, keyword ranking tools like Ahrefs, SEMrush, and Moz can be used to track your SEO progress. Check regularly how your chosen keywords are ranking in SERPs. If your headings are well-optimized, these rankings should improve over time.
Remember, good SEO requires regular monitoring and adjustment. Continuous optimization will improve your website's visibility, potentially driving more traffic and conversions.
Photo by laughayette on Unsplash
Sooner or later, the landscape of search engine algorithms might change, but the essence of optimizing your on-page SEO – especially your headings – will persist. Comprehension of on-page SEO, proficiency in keyword analysis, crafting captivating headings, and mastering the implementation of analytics tools will fortify your foundation in the digital world. Remember that SEO is a continual process, not a one-time setup. Therefore, it's all about evolving and improving over time. To make your mark in the digital world, stay informed, be flexible, and keep optimizing.